*Help with GENETICS HW Questions*
1.) The following human family pedigree represent the
inheritance of Waardenburg syndrome, a congenital monogenic trait
characterized by deafness, fair skin, visual problems, and a white
forelock: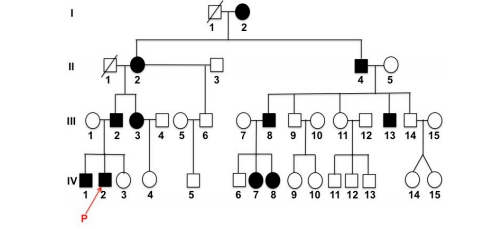 Questions to answer:
a. What is the mode of inheritance of Waardenburg syndrome?
Explain.
b. Is the trait autosomal or sex-linked? Why?
c. Is the trait dominant or recessive? Why?
d. Assume that the trait is monogenic and indicate the allelic
representation (specify the phenotype determined by each
allele/letter, i.e. affected or unaffected), and allelic
relationship (which allege is dominant, and which is recessive)
e. For each individual listed below, indicate the following
information:
i. Generation number- individual number = phenotype (affected or
Waardenburg vs unaffected) gender and 2 letter genotype (to
identify the different individuals in the pedigree, note that
generation and individual numbers: ex I. for the unaffected female
and its 2 letter genotype. Example: I. unaffected male, ?? (?? is
the appropriate 2 letter genotype)
ii. What can you say about the genotypes of all affected
individuals?
iii. What is the scientific name given to individual IV. 2 in
this pedigree? Why is the relevance of this specific
individual?
I. 1
I. 2
II. 1
II. 2
II. 3
II. 4
II. 5
III. 1
III. 2
III. 3
III. 5
III. 6
III. 7
III. 8
III. 9
III. 10
III. 13
IV. 1
IV. 2
IV. 3
IV. 5
IV. 6
IV. 7
IV. 8
IV. 11
1 2 34 5 6 7 8 9 10 11 12 13 14 15 6 7 8 9 10 11 12 13 14 15