Huntington Disease-Like 3 (HDL-3) disease is a dominant X-linked
neurodegenerative disease that manifests in affected individuals
around age 30. Shown below is a pedigree from a family with members
showing the disease. All family members are well above age 30,
except for IV-1 who is only 5 years old. Microsatellite locus r5984
is believed to be linked to the HDL-3. Researchers have typed each
family member for r5984 using PCR; the gel with the PCR results is
also shown.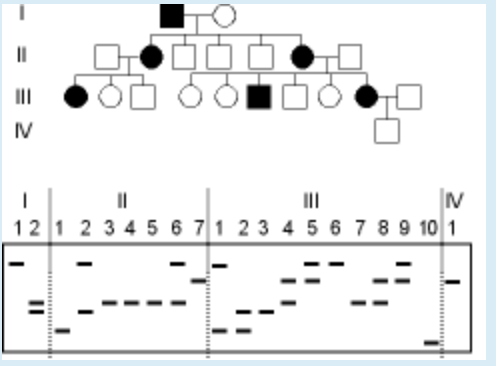 1. From the data in this pedigree, what is the map distance (in
map units) between microsatellite locus r5984 and the disease
gene?
2.What is the probability that IV-1 will show the disease when
he reaches his thirties?
[enter as a numeric value between 0 and 1]
121 2 3456 71 23 45678 9 101