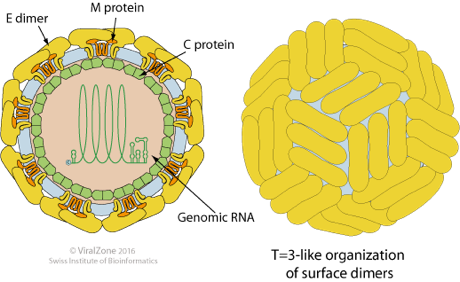 You are a super-villain who is trying to take over the world
with biological weapons. Currently, you are working on Zika
viruses. You have taken a field isolate and using PCR and other
techniques, started mutating the virus. You are focusing your
current work on 3 different mutants that have alterations in the
capsid (C protein) and envelope (E protein).
| | | | | |
| --- | --- | --- | --- | --- |
| Virus | Wild-Type | Mutant 1 | Mutant 2 | Mutant 3 |
| EM count/mL | 1×108 | 1×109 | 1×108 | 1×106 |
| PFU/mL | 1×107 | 1×107 | 1×109 | 1×106 |
3) You have been testing the various mutants vs the WT virus in
mice (assuming that Zika grows well in mice and they are a good
model system for humans). You find that mice infected with the same
EM count/mL of virions between the WT and mutant 1 have different
immune responses. It seems that many of the antibodies that the
mutant 1-infected mice produce don't neutralize the virus very
well. Thus, the infection ends up being worse, presumably because
the immune system can't knock out the virus as easily. Why might
this be? Please explain why each of these answers are
either correct or incorrect. Note, one is far more likely than the
other three.
a) The mutant 1 virus may be managing the immune system by
stimulating B cells to produce too many antibodies.
b) The mutant 1 virus may be overwhelming the immune system with
more virions.
c) The mutant 1 virus may be more infectious than the WT on a
PFU/mL basis.
d) The mutant 1 virus may be providing "decoy" antigens from
faulty virions for the immune system. The antibodies end up
targeting the wrong thing.
Please answer correctly and completely for each option. This is
my third time asking. Thank you.
M protein E dimer C protein Genomic RNA © Vira!Zone 2016 Swiss Institute of Boinformatics -3-like organization of surface dimers