You isolated a 10,500-bp plasmid (supercoiled, cccDNA) from
E. coli. The plasmid contains one unique recognition site
for EcoRI, a restriction enzyme. Restriction enzymes recognize a
specific sequence and cut both strands of the DNA at that
sequence.
​You briefly incubated the cccDNA at 37°C in four separate
reactions containing the components listed below. You ran the
reaction on an agarose gel and visualized the DNA using ethidium
bromide and UV light. The reactions included the appropriate buffer
and ATP when required. An agarose gel containing four lanes of
possible products is given below. For each reaction, indicate which
lane on the gel contains the products that you would expect to see
on your agarose gel.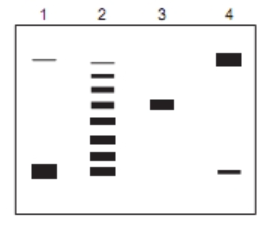 4 3 2